Di-XL Project: EU Workshop for Libraries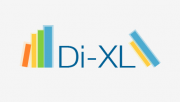 September 19-20, 2013
Hosted by National Library of Technology, Czech Republic
"DI-XL project: EU Workshop for Libraries" will take place in Prague on September 19-20, 2013. The workshop on September 19 will be held in conference venue of Masarykova kolej (at Thákurova 1, Prague 6). Project meeting with participation of seminar guests on September 20 will be held in National Library of Technology (at Technická 6, Prague 6).
If you want to participate in the workshop, please register.

For more information please find programme of the workshop or contact Magdalena Hornová (magdalena.hornova@techlib.cz) or Lenka Hvězdová (lenka.hvezdova@techlib.cz).
Project info:
Project Coordinator: Vita Zunda, vita.zunda@balticbright.lv